Area Attractions
Many of our guests have told us that they are coming to Wellington to visit family and friends or attend reunions, weddings, funerals, business meetings, and other various functions. But that doesn't mean that you don't want to do some special things while you are here. Below is a list of some of the many things to do in Wellington and the Greater Cleveland area.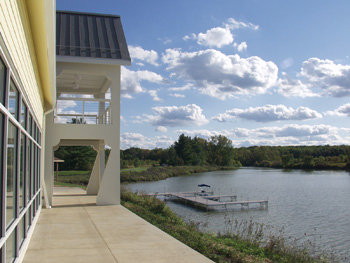 Wellington Reservation is a 550-acre Metro Park with hiking, biking, fishing, boating, and wildlife observation built around Wellington's South Reservoir. Located on the south side of town, this park is only minutes from Spreng Haus.
Findley State Park is a 900-acre State Park built around a 93-acre lake. Findley offers many miles of hiking trails, fishing, swimming, and much more. Findley is located approximately 10 minutes from Spreng Haus.
Splash Zone is an incredible indoor/outdoor water and fitness center in nearby Oberlin, a short 15 minute drive from Spreng Haus.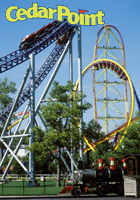 Cedar Point is "America's Roller Coast!" This amazing amusement park holds world records for most roller coasters in a single park (16!), tallest coaster (Top Thrill Dragster, 420 feet), fastest coaster (Top Thrill Dragster, 120 MPH), and tallest wooden coaster (Mean Streak, 161 feet). There are also outdoor and 12-month indoor water parks in the area of Cedar Point. This fabulous park is located in Sandusky, just an hour from Spreng Haus.
Put-In-Bay is located on South Bass Island in Lake Erie. Accessible by ferry, this beautiful island features a historical monument and museum, antique car museum, aquatic resource center, caves for exploration, and more! Ferry docks are located west of Sandusky, around 75 minutes from Spreng Haus.
Downtown Cleveland is an easy 50 minute drive from Spreng Haus. Here, you will find many museums: Great Lakes Science Center, Rock and Roll Hall of Fame, Cleveland Museum of Art, Cleveland Botanical Gardens, Museum of Natural History, NASA Glenn Research Center, Children's Museum, Crawford Auto-Aviation Museum, and Western Reserve Historical Society. You can also shop and explore at Tower City Center located in the Terminal Tower.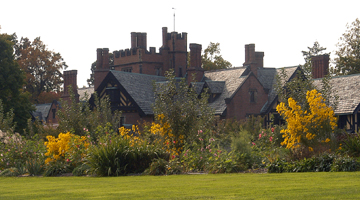 Akron is also roughly 50 minutes away and features a few excellent attractions. Hale Farm & Village is a premier outdoor living history museum. Stan Hywet Hall & Gardens features a beautiful Tudor Revival-style mansion on a 70-acre estate covered in historic gardens. Finally, Inventure Place is the National Inventors Hall of Fame Museum, located in downtown Akron.