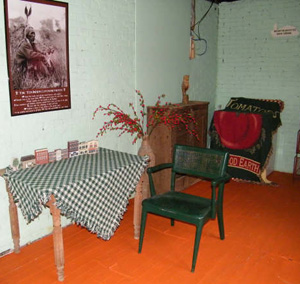 History
Located at 116 ½ West Herrick Avenue, in historic downtown Wellington, Spreng Haus occupies the second floor of an 1800s building that once upon a time was home to the village hardware store. Evidence of this business still remains on the living room wall where the words "hands off the tools - no tools to lend" still appears. Since that time the street level storefront below the guest house has been occupied by a shoe store, carpet shop, home improvement business, and is now home to Ag Credit. The second floor was vacant for many years.
About 10 years ago we, along with our partners at the time, remodeled the second floor loft style apartment creating 1,300 square feet of living space. During the restoration project we tried to reuse a large portion of the original doors and woodwork in keeping with the historic nature of the building. The remodeling project was a labor of love for all of us, but we would later learn that not all of our tenants shared that same emotion. With that in mind and often hearing local residents comment that there was no place to stay in Wellington, we made the decision to try something different.
Starting in the summer of 2008 we tore out, cleaned up, painted, and furnished 116 ½ with the idea of creating a guest house that visitors to Wellington could call home for a night or a week or as long as they want to stay.
While we cannot offer you a view of the ocean or a Jacuzzi tub - the Spreng Haus will provide you with privacy and the convenience of being located in the center of all Wellington has to offer. You will be within walking distance of several restaurants and churches, a bakery, video store, carry out, museum, library, gift stores, and beauty salons. Wellington is a safe and beautiful community and while it is a small town there are five fast food restaurants along with grocery stores and gas stations that are open 24-hours a day.
Wellington hosts a number of special events from spring through fall and information will be available in the Spreng Haus. In addition, don't be surprised this summer and fall to see area gardeners selling their produce in the town square along with local Amish families that are known to sell their handmade baskets there as well.