About Your Stay
Our keypad door system makes for easy arrival and departure - you will have no keys to worry about.
Spreng Haus offers three bedrooms along with a new roll-out cot and a crib.
All beds will be ready for you with new, fresh sheets along with plenty of towels and soaps. If you need a bed change or more towels during your stay, please call us.
The refrigerator will be filled with cold beverages and the cupboards will have plenty of snacks and cereals. A coffeemaker is waiting for you on the kitchen counter.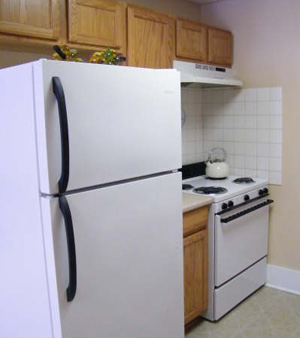 Spreng Haus has three televisions, all hooked up to basic cable, and a DVD player is in the living room. If you would like something to read, we will have a newspaper for you along with books (that you are welcome to take home) and information about Wellington in the "backroom." All rooms are covered by WiFi if you would like to stay "connected."
Please be sure to read the Spreng Haus information book that will tell you about parking, area restaurants, and things to do.
We are sorry that we are not able to allow pets in the guest bouse, but boarding is offered at our veterinary clinic. Information can be found at www.wellingtonvet.com.
We look forward to seeing you in Wellington and hope that you have a wonderful stay.